Give your dog his very own patch of grass (synthetic or real sod) with the Porch Potty Standard. Boasting the same self-draining system as the Porch Potty Premium, the Standard is designed for when there is not a nearby water source, such as a high-rise apartment complex.
Simply pick up any solid waste, manually rinse the grass with a watering can, then let the Porch Potty drain itself. Unlike the Premium, the Standard can be used with our Indoor Catch Basin (not included) instead of the 14' drain hose (included).
Suitable for dogs from 5 to 120 lbs and large enough for even the fussiest pottiers to find the perfect spot.
Give your dog the perfect patch of grass with the Porch Potty Standard. The unique design allows instant drainage to either the Catch Basin (sold separately) stored under the Porch Potty OR the 14' drain hose (included) to be directed to any nearby rain gutter or floor drain.

The Porch Potty Standard is different from the Porch Potty Premium because it does not have a hose connection or sprinkler system. To rinse the synthetic grass or training sod, pick up any solids first, then use a watering can to sprinkle several litres of fresh water over the top and let the Porch Potty drain itself. No soap or harsh chemicals are needed, just clean water a few times per week. With a full 8 square feet of grass area (2' x 4'), the Porch Potty can accommodate all dogs from 5 lbs to 120 lbs. Plenty of space to circle and find the perfect spot.
See what a satisfied customer has to say about the Porch Potty Standard!
Outer Dimensions: 26" x 50" x 7" (66cm x 127cm x 17.75cm)
Grass Area: .74 square meters (61cm x 122cm) - Synthetic grass included
Material: All weather resin wicker over steel frame
Drain hose length: 14ft (4.3m) ultra-flexible

Other Items Included
Potty Training Booklet and User Manual
Scented Fire Hydrant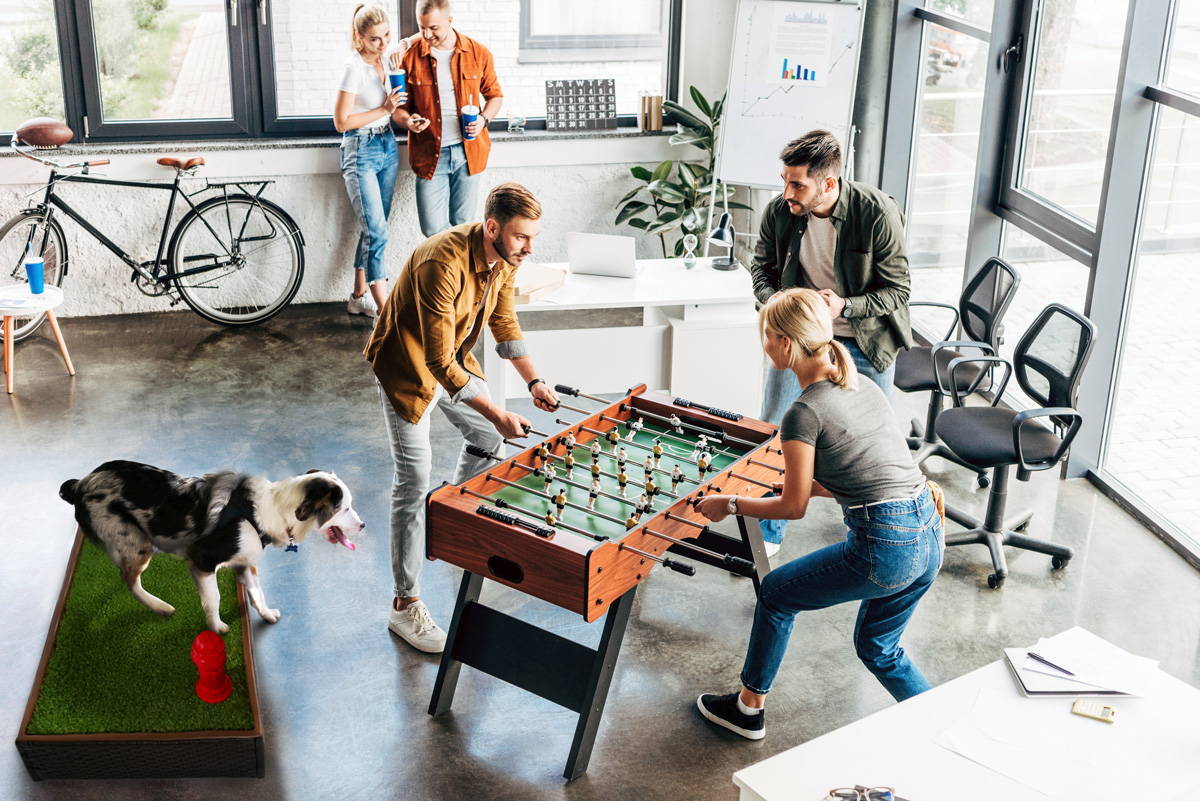 Real Testimonials From Real Customers
We don't have to toot our own horns. Hear from verified customers how Porch Potty has transformed their lives.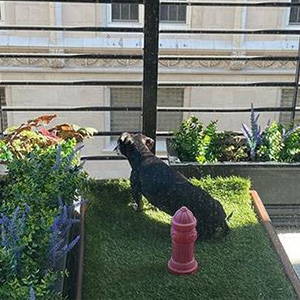 We live in a high rise, and before we got our new puppy, we thought that it would be a good idea to have your product for emergencies, bad weather, and so we received it a few days before we got our puppy. I really had no intention of introducing him to it until he had settled in for a few days, and did his business outside on the grass. I thought that I would take him out on the balcony to become familiar with it, and so Bentley looked at it, walked the length of our balcony, came back, got onto the Porch Potty with no coaxing or my lifting him onto it, and did his business as if he had used it a thousand times - I was astounded at how easily he understood what it was for. For people who live in a high rise building, this is a Godsend for those times when your pet needs to relieve himself immediately, and you can't wait for an elevator, or when it is raining, or freezing cold. Thank you for a wonderful product.
- Phyllis Levin & Dog: Bentley


A couple of days ago I received the Porch Potty and I am so excited to tell you that dogs used it instantly. I was shocked to notice that within 30 seconds my oldest dog who is blind and cannot smell walked right up to it and used it. A moment later my second dog used it. I cannot tell you how happy I am with your product. I just moved into a condo and wanted something for the dogs to use on the patio. Presto! Porch Potty to the rescue. Thank you so much.
- Tammy Ashmore & Dogs: Mayzie and Dominoe


I just received the Porch Potty for my rather large Maltese, named Bentley. I love it and so does he. After I set it up, my cat thought it was a new place for her to lounge in the sun! Thankfully, Bentley hadn't used it yet! Prior to receiving the Porch Potty, I was using a grass type of carpet on my balcony. I had to rinse it down and then go down the driveway and rinse that down - not to mention the smell. I threw that out immediately and replaced it with the much more practical Porch Potty. I will recommend it to everyone I know, who has the need for one. Thanks again. I am extremely pleased.
- Pamela & Dog: Bentley


We live in an apartment and LOVE the Porch Potty! I taught little Francis how to use it and he was hooked within a day! The Porch Potty is worth it's weight in GOLD, and I'm going to send you a video tomorrow to prove it! Porch Potties are the glue that held this troubled (doggie's) world together! Attached are photos of my beautiful and luxurious Pembroke Welsh Corgi, Francis, using his Porch Potty and loving it. The other is a photo of Francis alone, and in all his glory.
- Sarah Johnson & Dog: Francis


Assembled my porch potty yesterday and my 6 month puppy has already peed on it 5 times! Wow. Thanks so much for a product that is foolproof, lightweight, easy setup, ingenious, and aesthetically pleasing. Everyone should own one. The fire hydrant is really cute (even though it smells like pee, haha).
- Jennie Lee


OMG!!! I just got my Porch Potty delivered last night and my Papi-poo, Dakota LOVES it!!! She jumped right on it and peed right away:) This morning... same thing with #1 and #2... I love this thing :)
- Sisanie Reategui & Dog: Dakota


I purchased a Porch Potty shortly after bringing home my Cavalier King Charles Spaniel puppy, Charlotte. We found your product to be wonderful, especially when Charlotte was diagnosed with luxated patellas in both rear knees. She had to undergo two separate surgeries and be in leg casts for weeks. Since she was already trained on the potty, it made it so easy for her to go in and out quickly without having to deal with stairs.
- Amy Sinicin & Dog: Charlotte


iI just wanted to say that the Porch Potty enabled me to be able to get, and keep my Mastiff puppy. I have some health issues right now, and am often quite dizzy first thing in the morning. With the Porch Potty I can just let Lena out on the balcony, and she takes care of business. It's also very nice to have in rainy weather, which is most of the time in Oregon. It's also great at night! It did not diminish her learning to go outside where she is supposed to go, either. Thanks for a great product. I have recommended it to a number of my clients.
- Tiana Phillips
The first odor eliminator designed for dog potties.
The first odor eliminator designed for dog potties.