Why most dog owners choose Porch Potty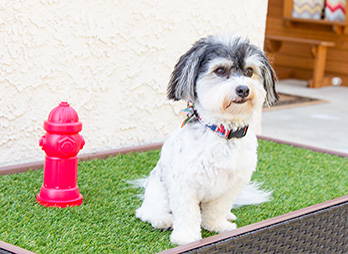 Your dog will love having his own grass area so close. No more holding it for hours while you're at work or sleeping. Great for aging or injured canines and humans alike, bringing the backyard right outside their patio door.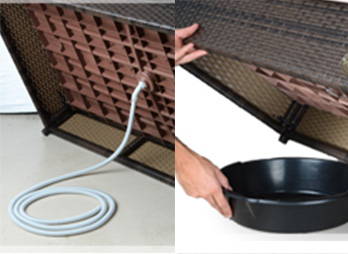 The built-in drainage system can be used outdoors or indoors. Use the 14 foot drain hose if you have a patio drain or rain gutter nearby. If not, buy the Indoor Catch Basin to collect the liquids below the Porch Potty. Both are completely interchangeable.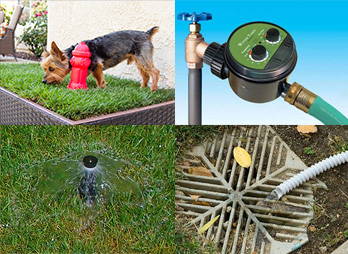 A Porch Potty Premium rinses and drains itself automatically. With the optional water timer, the pop up water jets turn themselves on and off everyday. The grass area floods with one inch of water before the drain empties it, leaving the grass fresh and odor free.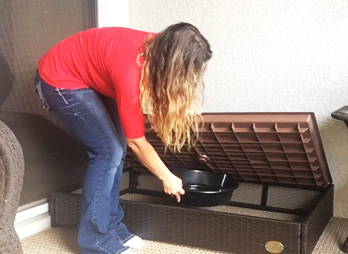 After picking up any solids, a few gallons of water three times a week is all that is needed to keep your Porch Potty clean and deter odors. No soap or harsh chemicals are necessary.
Each Porch Potty comes with our waterproof, nylon synthetic grass. You may also choose to upgrade to our organically grown, hydroponic grass, called Training Sod. The Training Sod is designed specifically for the Porch Potty and uses our dogs' natural instincts to speed train or transition them to use the Porch Potty.
Why buy everything separately, when you can save money and get it all included? For no extra charge, Porch Potty includes the scented fire hydrant, long drain hose and synthetic grass for one low price.
Porch Potty vs Other Litter Boxes
Our system is the most comprehensive out there. See for yourself how we measure up to our competitors.
Size
Drainage
Rinsing System
Grass
Price

Self draining - 14' drain tube
and indoor catch basin

Self draining - 14' drain tube
to direct water to basin

Classic Penthouse
Dog Potty

None - must be cleaned
every day

Drain self contained, entire
unit must be dumped

$100 + $30/m
for synthetic grass

None - must be cleaned
every day

$279 + $49 for
replacement turf

$169 + $50 for
replacement turf
What our customers are saying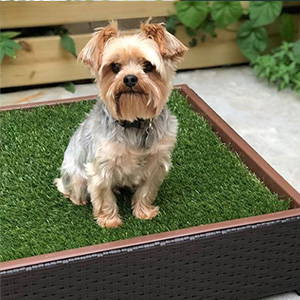 I just wanted to say that the Porch Potty enabled me to be able to get, and keep my puppy. I have some health issues right now, and am often quite dizzy first thing in the morning. With the Porch Potty I can just let Lena out on the balcony, and she takes care of business. It's also very nice to have in rainy weather, which is most of the time in Oregon. It's also great at night! It did not diminish her learning to go outside where she is supposed to go, either. Thanks for a great product. I have recommended it to a number of my clients.
-Tiana Phillips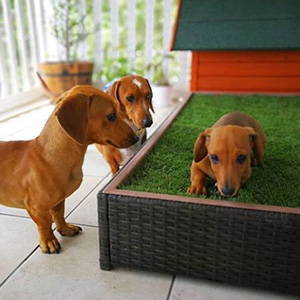 Just in case you haven't heard of the Porch Potty...check it out! It's great to have especially if you live on a second floor; during cold weather, rain, or snow; and late at night/early in the morning. My pups has one and we love it!!
-Jillian Senn
Be the first to know about new products, training tips and exciting developments at Porch Potty.